Found this while surfing the net...thought I'd post it up.
Filleting is method used by most anglers to prepare their catch. A sharp knife with a flexible blade is practically all you will need. The six-inch blade is the most popular. The quickest and simplest way to fillet fish is shown below.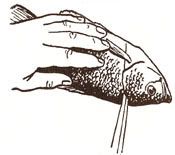 Cut behind the pectoral fin straight down to the backbone. Angle the cut towards the top of the head.
Run the knife along one side of the backbone. The knife should scrape the rib bones without cutting them.
Push the knife through the flesh near the vent just behind the rib bones. Cut the fillet free at the tail.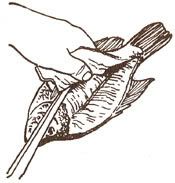 Cut the flesh carefully away from the rib cage. To save flesh, the blade should graze the bones.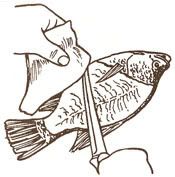 Remove the first boneless fillet by cutting through the skin of the stomach area.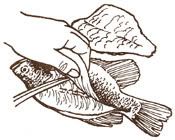 Turn the fish over. Remove the second fillet using the same filleting technique.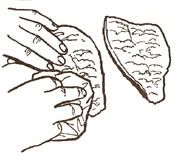 Rinse fillets quickly with cold water or wipe with paper towels. Save head and skeleton for stock.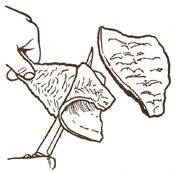 Skin fillets, if desired. Hold the tail with your fingertips and cut between flesh and skin with a sawing motion.
______________________________________
___________________________________
____________________________