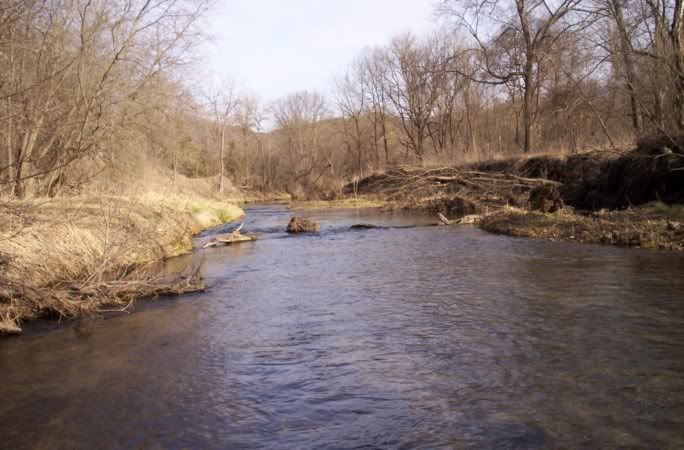 I finaly got a chance to get to the streams for the first time in 2010.
Because of the lack of time I decided to make this year's début on the North Branch of the Whitewater River.
I found the river to be rather low and clear. Water temps are running at 52 degrees and the trout were hungry.
It was a beautiful sunny day with the temperature close to 80.
I tied on a barbless Silver Bladed Black Pear Super Bow and never changed.
The second cast that I made produced a great 17" Brown and the 2010 season was on its way. I started at 3:00 and fished until 6:00.
I landed a total of eight fish the smallest measured just under 12".
The count was almost even with five Rainbows and three Browns.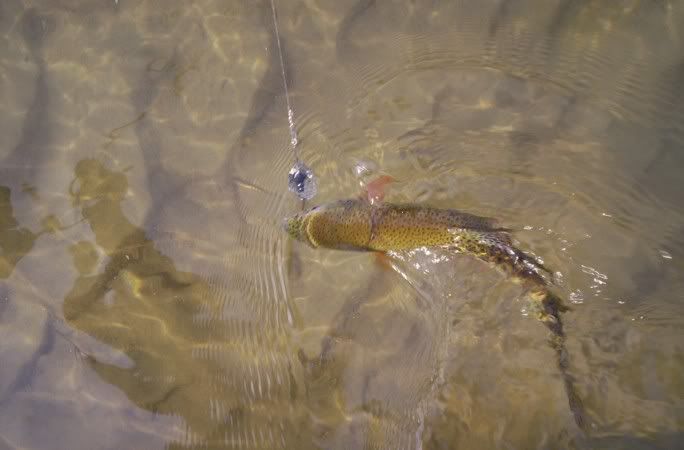 A couple of the Rainbows were real beauties, not quite as long as the largest Brown, but having a much deeper and thicker body, they most definitely out weighed him.
The strikes were savage and powerful, they really liked that Silver Black Pearl!
Keeping it short for now!
Until next time…
Stay low slow and with the flow, and don't go without your Bow!
Spindoctor.
For all your Bow spinner needs, please visit the following fine bait and tackle merchants:
Minnesota
Gone Fishing in Rochester
Elba Valley Express, Elba, in the White Water area
Curt's Bait and Tackle in Preston
Magnum Sports in Chatfield
Root River Outfitters in Lanesboro
Tri-State Bait & Tackle in La Crescent
Axel's in Waterville
River Valley Outfitters in Wabasha 651-565-2326
Maple Springs Campground and Country Store by Forestville 507-352-2056
Wisconsin
Anglers Nook in Lancaster
Captain Hook's Bait & Tackle in Genoa, 608-689-2800
Jack's Tackle Shop, 923 main St. Cashton, 608-654-7775
Schnitzler's Sports Store, in Sparta, 608-269-2686
Iowa
And now at SPORTSMEN's UNLIMITED located at 866 Allamakee St., in Waukon, Ph-563-568-4955
Ozzie's Outdoors in Decorah (temporarily closed due to moving)
Illinois
Franks Bait Shop, 621 North Dixie hiway, Momence, Ph-815-472-6638
Colorado
Your Fishing Partner in Idaho Springs
Roaring Fork Outfitters Inc. in Glenwood Springs, 970- 945- 5800
Jonah's in Jefferson, 719-836-0289
Three Rivers Resort in Almont 1-888-761-FISH
11 Mile General Store of Lake George, 719-748-3424
Pomeroy Sports in Aspen, 970-925-9589
American Hunting & Fishing Supply in Salida, 719-530-0725
River Bend Resort on the Big Thompson River by Drake