January 27th, 2010 Mosquito Lagoon Fishing Reports
The weather for the beginning of this year had started off very poorly as we all know. Some of the coldest days and nights I have seen in my life here in Florida for a very long time. Not just cold but the length it lasted as well. I will not dwell too much over the extreme cold that we had or what it did and is doing to the fish populations because I am sure every one is aware of it at this point in time. However I would like to suggest some food for thought. I personally have witnessed, like many of you out here on the Mosquito Lagoon and the refuge, a very large number of dead big trout. Some of these trout looked massive. A heart breaker for sure for any sport fishing angler. Along with several other species including snook and tarpon but I think the trout on the lagoon has been hit the hardest due to their year round presence here. The trout kill from the cold snap at the beginning of this year really took its toll on them. I would like to advocate the release of as many of these trout as you can for a strong come back of them in the future. Hopefully the breeders will be able to sustain the population and it will not be long until we see more of them again among the grass flats as in the years past. As always handling them with extreme care to ensure a safe release is key to their survival. The redfish and black drum however seem to have taken the beating a little bit better than the trout, snook and tarpon did for sure. Possibly a good sign indeed for the future of them as well.
Now on with some fishing. During the days of very cold weather I found that some days the bite was extremely tough as that is the nature of cold blooded animals. The fish were very lethargic indeed. Later start times are essential in that case. Use the heat of the day to your advantage. Slow presentations of bait is the key element to days like this. Even then it will not entice a hit. As we are now towards the end of the month and water temperatures have been climbing back up into optimal range for fishing here on the Mosquito Lagoon the flats fishing has been improving tremendously. Redfish have been feeding here the past several days very aggressively all over the place. D.O.A. plastics seem to be the go to bait for schools and cruising fish. As well with tailing fish if you are able to apply a targeted and soft presentation without scaring the fish off. Shrimp in the 1/4 oz. size and C.A.L. used with a small weighted hook in several different choices of colors will work. Fly fishing as always at this time of year is superb. Sight fishing the clear water allows you to get precise casts to your fish along with a good tactical approach. Using shrimp and mullet patterns in natural colors is a great choice for fly.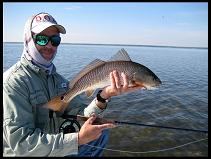 With water levels low this time of year it is always in your best interest to pole towards any fish you can. Along with the clear water and shallow depths the fish are much more aware of their surroundings. So try to approach them as stealthy as possible taking your time to get into position. Also be very cautious of your navigation during this time of year as well not only with grounding your boat out but also give a very wide distance between you and other anglers.
Captain Drew Cavanaugh
Florida Inshore Fishing Charters
Visit us at:
http://www.floridainshorefishingcharters.com/