Lake Texoma water temperature is now 80° and elevation is ½ ft below normal. The margins between the hit and miss days are getting smaller and fishing is becoming more consistent. Now, even on the slow days we're still bringing home a limit of fish and we should continue to catch limits on almost every trip from now through the end of December. Fall fishing is my favorite time of the year. With kids back in school and hunting season kicking off, the lake becomes less crowded. Fall is also the best time to catch a big fish on topwater. This means you get to experience some of the best fishing of the year with out having to fight the crowds.
Recently, the high pressure system has brought back the heat and killed the wind. According to the forcast this will change heading into the weekend and we will have nice cool weather again. With the return of the heat and no wind, I've noticed the topwater bite has slowed down and bigger fish are less aggressive.
Tuesday morning the fishing was fantastic! I had 2 people and we fished topwaters most of the morning. I tried several spots and the only strikes I could muster were small swirls and half harted attempts by the fish to take the lure. I kept on the move until I finally found some aggressive fish. We ended up catching some nice fish but no monsters and managed to box half of our limit before the topwater bite quit. Now it was time to drop some baits down. I idled out a ways from where we were topwater fishing and set up a drift in 15 ft of water. After drifting for a few minutes with no action I decided to beat the water. Here they come! We were catching fish as fast as we could drop down and they stayed with me until I got out to 30ft of water. Half the fish we were catching were over 20" and the other half were small. Not many box fish and I was only keeping 1 fish for every 5 we caught but we only needed 10 fish anyway and I put our last in the box around 8:00. The bite quite around 9:00 but my customers weren't ready to go in so we went looking for fish that were still feeding. I finaly managed to find some small fish drifting the flats in around 30ft of water and they kept us occupied until it was time to go in. Definitely a great morning on the water!
Tuesday evening I had a group of 4 that I picked up at Eisenhower at 3:30. Thankfully the wind had started blowing and we had a little cloud cover develop since I went in on my morning trip. I went straight to where I had caught them that morning and decided to throw anchor on a ledge since I had wind. The first anchor was unsuccessful but the second was the jackpot! 25ft of water and it was fast and furious. We were having to throw back 20" fish and we managed to put 27 in the box before the fish finally left us. I was about to pull anchor and move but my customers decided they had caught enough fish and were ready to go in and cook supper. We made it back to the dock at 5:30. I sure wish every trip could be that easy

Wednesday morning I had a group of 4. We had the same conditions as Tuesday morning, hot and still. I figured with the same conditions, I could fish the same spots with the same results. As it turned out I was wrong. The topwater bite was much slower. We only managed 3 fish with 1 over. I tried drifting several places in the area I had success in yesterday but couldn't get a bite. The fish would come under the boat and just wouldn't want to feed. I went to the flats and started catching small fish drifting 30ft and after putting several small fish in the box I left to go find some bigger fish. I spent a lot of time looking and we managed to get on some good fish briefly to put 10 decent fish in the box. That only lasted a minute and I could not find where they went. We finally ended up back on the flats with the small fish to finish our limit. We went in at 12:00 with our 40 fish limit. I wasn't proud of a lot of the fish that we kept but at least my customers went home happy with a mess of fillets. We caught a lot of fish and had a good time and that's what its all about.
The cooler it gets the better and more consistent fishing will become. When the water temperature hits 75°, every day will be a good day. Book your Lake Texoma striper fishing trip online at
http://www.stripersinc.com
or call me anytime at (903)815-1609 and I will get you set up.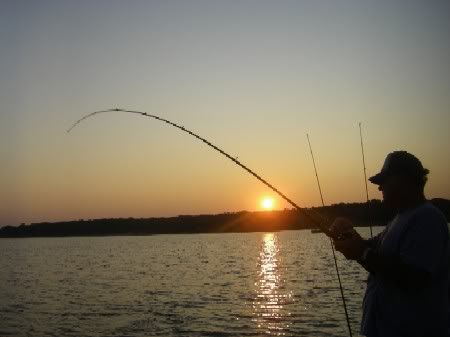 Your Lake Texoma Fishing Guide,
Brian Prichard
Stripers Inc.
http://www.stripersinc.com
(903)815-1609