Fall fishing is awesome on Texoma and now is the time to reserve your fall trip. Catching 10lb fish on topwaters is a common occurrence from September through the end of October and the bait fishing is as good as it gets. A typical fall trip will involve catching our big fish on topwaters at first light and switching to bait to finish up our limit after the topwater bite is over. Cold fronts will produce the best topwater fishing as fish become more active in the cooling water temperatures.
Currently Lake Texoma elevation is normal at 617 and the water temperature is 83°. Fishing is steadily getting better with the cooling water temperatures. Fish are concentrated in the shallow flats and on the river ledges. My fish have been comming off topwater at daylight and on bait later in the moning. With bait, fishing on anchor in 30ft on a flat or 45ft on a ledge seems to be working best.
Wed Aug 19: Lake Texoma came alive with big stripers blowing up on the surface today. It was the best topwater experience I have had all summer long. I had 5 people with 2 cute little girls today. The fish stayed on top for 2 hours and didn't go down. There were 5-6 other boats chasing them but it didn't seem to matter. They were gong crazy! I would pull up to a school, cast out 5 rods and have 5 fish on as soon at they hit the water. They really kept me busy today casting 3 of the 5 rods and taking all of the fish off the hooks, I could barely keep up with all of the chaos. The topwater bite subsided around 9:00 and we had 33 fish in the box, all good fish, and threw back several over 20". We then threw an anchor just off of a near by ledge in 40ft and started catching them off of bait. Most of the fish on bait were over 20". Around 10:00 the fishing slowed and the girls decided it was time to go in with a few fish shy of our 50 fish limit. What an incredible topwater day on Texoma!
I will be leaving for Colorado Sunday August 23 and will return on Sunday August 30. While I'm gone it will be best for you to reserve all of your trips online at
http://www.stripersinc.com
as I will not have internet access to book your trips by phone. If you have any questions, please feel free to call me anytime at (903)815-1609. My prices are $125/person. Children 12 and under as well as active military personnel are half price when accompanied with 2 full price adults and catch and release trips receive a 10% discount. Everyone is welcome aboard and everyone WILL catch fish.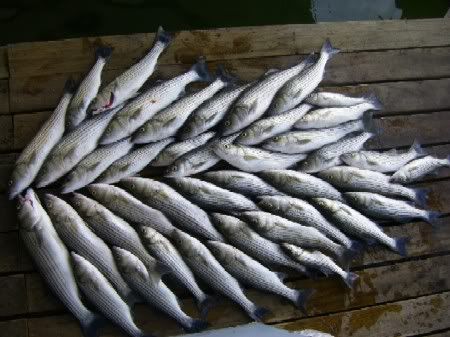 These are aggressive fish! I actually caught this one on this lure!
Your Lake Texoma Fishing Guide,
Brian Prichard
Stripers Inc.
http://www.stripersinc.com
(903)815-1609