The Minnesota trout season of 2009 was a season of adventure and exploration. The combination of these two elements added up to a whole lot of fun as well as some very good fish. The business of adventure and exploring usually involves traveling to remote destinations in order to reach waters that are seldom fished.
While most of the time these ventures can only be accomplished on foot, several streams and rivers in Minnesota are bordered by paved trails which are designated for non-motorized vehicle and pedestrian traffic, opening up another avenue to some rarely touched water.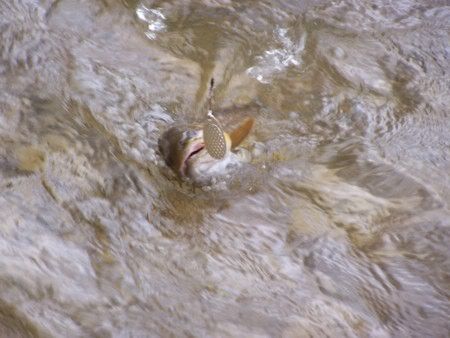 The Bike Trails have made it possible to reach remote stretches of water that, in the past, would require a great deal of obtaining permission as well as a whole lot of cross country hiking. Areas that used to take hours to get to can now be reached quickly via the use of peddle power. However if just getting to the trout was all that was required, than a bicycle would be the key to making most anglers dreams come true, but getting there solves only part of the problem and creates a few new ones.
The act of riding a bicycle while wearing waders can be hard on an expensive pair of waders, and transporting gear and tackle on a bicycle can involve some fairly elaborate packing schemes. Once at the destination the bicycle itself can become an obstacle. A long spell of wade-fishing will very often place an angler a mile or so upstream from where he parked his bike, making a fair amount of walking necessary before he or she can start peddling for home.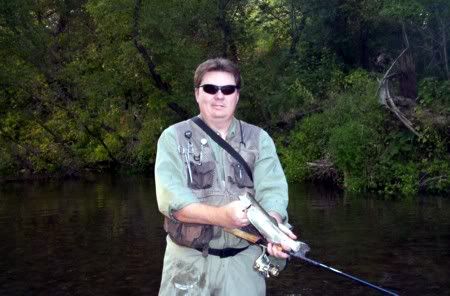 This year I was blessed to meet up with Dave, a fellow angler that I introduced to the art of Spinfishing for trout using the large Super Bow spinners. From the first hour Dave was hooking trout and getting hooked on the simple method of casting spinners. A friendship soon developed and we were soon spending a couple of days a week flogging out trout on the streams and rivers of Minnesota.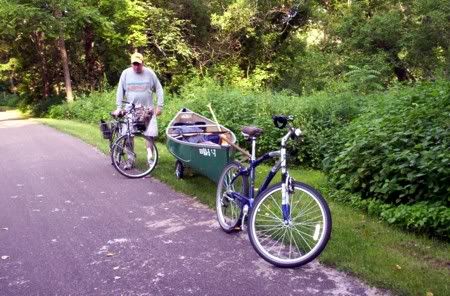 It was on one of our earlier outings when Dave and I were heaving hardware and cogitating solutions to most of the world's problems that I happen to mention an idea I had of devising some method of attaching wheels to a canoe and trailing it behind a bicycle. Dave's creative talents kicked in, he obtained a canoe dolly and manufactured a tongue that attached to the bow of his canoe and hitched to the frame of his ten-speed.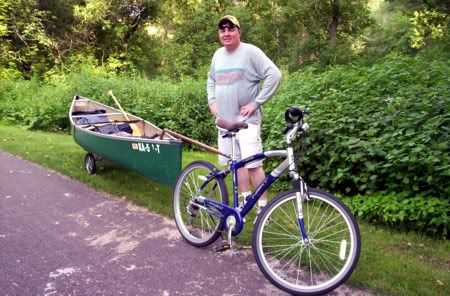 The whole setup was a thing of beauty; we simply unloaded the canoe, attached the wheels, hitched it to the bike and threw the waders and poles in the canoe. Dave pulled his canoe trailer behind his bike while I rode along side on my bicycle. When we found a spot on the riverbank that looked to be a place where we would stop fishing, we unhooked the canoe and secured it to a tree. We continued on bicycle to a place downstream, secured the bikes as we had the canoe, and wade-fished our way up to the canoe. When we got to the canoe we detached the wheels and tongue and placed them in the canoe, than we got in and paddled back to our bicycles.
Using this method we were able to easily reach remote stretches of water where there were no footprints and a few hungry trout. The whole adventure turned out to be a very enjoyable angling triathlon.
Well got to get back to twisting wire, so until next time…
Keep it slow, low and with the flow, and don't go without your Bow!
Spindoctor
PS. For all of you greens keepers out there, we classified the journey back to the car as Recycling!
For all your Bow spinner needs, please visit the following fine bait and tackle merchants:
Minnesota
Gone Fishing in Rochester
Elba Valley Express, Elba, in the White Water area
Curt's Bait and Tackle in Preston
Magnum Sports in Chatfield
Root River Outfitters in Lanesboro
Tri-State Bait & Tackle in La Crescent
Axel's in Waterville
River Valley Outfitters in Wabasha 651-565-2326
Maple Springs Campground and Country Store by Forestville 507-352-2056
Wisconsin
Anglers Nook in Lancaster
Captain Hook's Bait & Tackle in Genoa, 608-689-2800
Jack's Tackle Shop, 923 main St. Cashton, 608-654-7775
Schnitzler's Sports Store, in Sparta, 608-269-2686
Iowa
And now at SPORTSMEN's UNLIMITED located at 866 Allamakee St., in Waukon, Ph-563-568-4955
Ozzie's Outdoors in Cresco
Illinois
Franks Bait Shop, 621 North Dixie hiway, Momence, Ph-815-472-6638
Colorado
Your Fishing Partner in Idaho Springs
Roaring Fork Outfitters Inc. in Glenwood Springs, 970- 945- 5800
Jonah's in Jefferson, 719-836-0289
Three Rivers Resort in Almont 1-888-761-FISH
11 Mile General Store of Lake George, 719-748-3424
Pomeroy Sports in Aspen, 970-925-9589
American Hunting & Fishing Supply in Salida, 719-530-0725
River Bend Resort on the Big Thompson River by Drake