Well summer is most definitely here. Where was this 7 months ago. Right! This weather by far is much more acceptable than the cold snap here of 2010 that occurred. I welcome this weather year round. I am sure most of us would agree with this too. With that said the fishing the past several weeks has been outstanding. Epic days for sure. With the days being extremely hot out your best bet by far is to start early to beat the heat and finish before it is too hot out to enjoy the day. Start way before sunrise as the bite will drop off as mid day approaches and then will pick back up towards the end of day light hours.
Redfish have been the major staple of the Mosquito Lagoon and the Indian River here near the New Smyrna Beach area to the Titusville flats. The redfish bite has been great at first light among the flats all throughout the backcountry waters in shallow waters with baitfish present. Clean water will help too. Sight fishing is at a premium for slot sized red fish and the bigger bull redfish. As always please just give your fellow anglers a very wide gap between you and them if you arrive to an area later than the boats already present. Good distance - 600 feet at least. It is just a common basic courtesy to apply any where you fish in the world. The early bird gets the worm. Many anglers work hard with stealth like tactics to get into position early to be in the right place at the right time.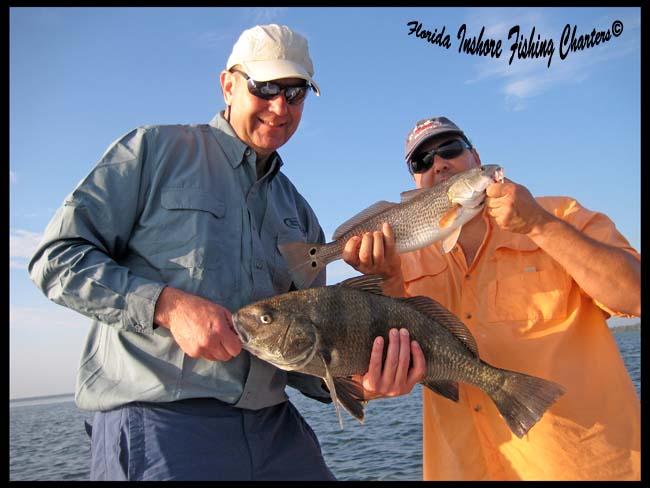 Redfish are hitting a wide variety of bait but the go to bait this time of year is a live finger mullet, mud minnow and soft plastics. Placing a mullet or mud minnow on a 3/0 circle hook and then a targeted precise cast to taillers will work most of the time. Just do not land on the fish you are throwing to and get it in front of them as the tail does not eat. They will spook and they will ALL run. However I have been getting some of the bigger redfish on some hand picked small blue crabs put on a circle hook then with a well placed soft presentation will bring on major big action. DOA plastics with a small weight on them will also produce great action while sight fishing. Please as always with every fish you are handling and landing make the first priority their quick release for a higher survival rate.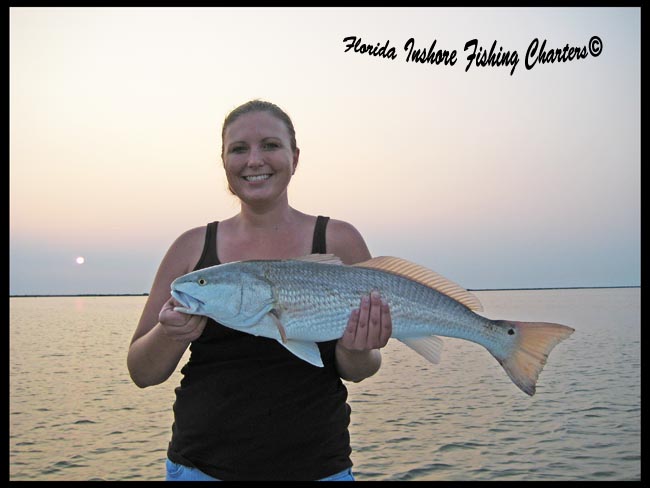 Trout are being caught in good numbers while working the deeper ledges of the grass flats and the sand bars where mullet and bait fish are moving around. Stay in three to five feet of water. Pig fish will work but are hard to come by this year. As long as you can find clean waters top water baits will produce as well and always as well fly fishing is great on the lagoon. Moving throughout the lagoon and river look for bait pods being hammered by birds and most likely you will find jacks, ladyfish and blues mixed in.
Captain Drew Cavanaugh
Florida Inshore Fishing Charters
Cell/352-223-7897
Email us at:
drcfishmaster@cfl.rr.com
Light tackle fishing guide on the Mosquito Lagoon.
Specializing in fly fishing or spin fishing for redfish, trout, snook and tarpon.
Visit us at:
http://www.floridainshorefishingcharters.com/
Fish the world famous Mosquito Lagoon. The redfish capital of the world!